Note: This post is the oldest article on this blog. It was written several years ago and many people read this post. Time passed and four of the 10 guesthouses in the original post closed down. We will write a new post on best guesthouses in Seoul but decided to keep this post. The reason to do so is that other guesthouses in the post are, in a way, survivors and as such could be considered as still maintaining a certain level of service that attracts visitors. We made some minor updates to the original post to reflect changes. 
Guest houses are one of the economic options for staying in foreign countries. Like other metropolitan cities, Seoul has many guest houses. This post covers some of the guest houses that rank high on the Google searches.
A. Location
Near Insadong, Jongno, Changdeok Palace, and Jongmyo (Confucian shrine)
B. Price
15,000 won to 57,000 won
C. Transportation from the Inchon airport
The beewon guesthouse in center of Seoul is located near In-sa dong where most foreigner want to visit and it takes about 7-8 minute and Jong-no where is always exiting and witch is full of the young and business men.
D. Check in & out
Check-In: 14:00
Check-Out: 11:00
E. Facilities
Kitchen, Computer, Washing Machine, Micro Wave, Toaster, Wifi, Water Purifier, Locker, Telephone
F. Contacts
TEL : 82-2-765-0670
FAX : 82-2-765-0677
Email: webmaster@beewonguesthouse.com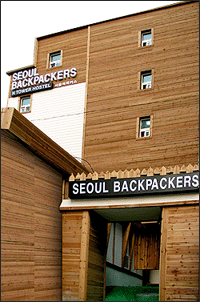 A. Location
Near Namsan and Namdaemun market.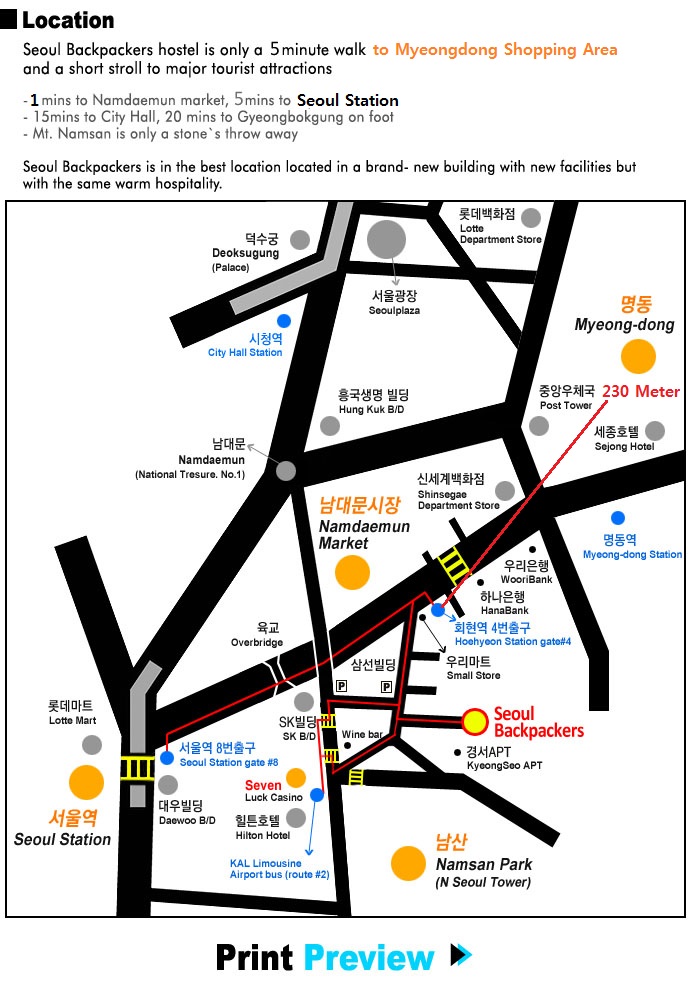 B. Price
45,000 won to 90,000 won
C. Transportation from the Inchon airport (check the above map)
1. Take a KAL Limousine bus ( Route 2 Namsan Area ) to Millennium Hilton hotel
from bus stop 4B or 11A ( 1st Floor in the Airport )
2. Get off at Millennium Hilton hotel. ( will be take around 1 hour 20 minutes. )
3. Walk towards the main street in front of the hotel.
4. Turn left and along the main street, Go down 40 meters towards the 2nd crossing.
5. Cross the street at the 2nd crossing and walk into the narrow alley.
6. Go down 50 meters and turn right at the end of the alley
you will see a black signboard for the Seoul backpackers on your left.
D. Check in & out
Check in: after 2 PM
Check out: –
E. Facilities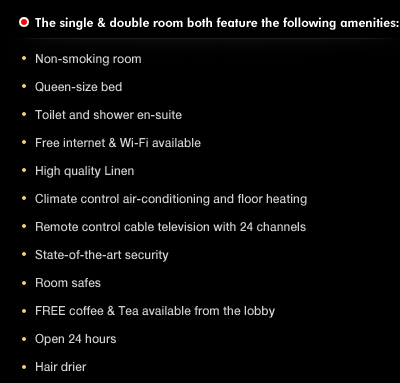 F. Contacts

Phone: 82 2 3672 1972
Fax: 82 2 743 4878
Email: webmaster@seoulbackpackers.com
A. Location
Near Namsan and Namdaemun market.
B. Price
35,000 won to 80,000 won
C. Transportation from the Inchon airport
Take a bus No.6001 from bus stop 6A or 12B. (in case of Gimpo, from International Line 6 or National Line 4.)
(bus fare : 14000KRW/one way)
Get off at Sookmyung Women's Univ. bus stop (숙대입구역)
(It takes around 1 hour and 20 min.) (from Gimpo, It takes around 50 min.)
Follow the bus direction, Cross the crosswalk on your right. and Turn Left and go straight 100M passing by GS25, PIZZA HUT sign.
Cross the forward crosswalk and Turn right at EXIT No. 2.
Go straight 500M forward. While you're walking,
You can see Domino's PIZZA, GS25, and Motorcycle shops sign.
After you cross an intersection, you will see 'Yongsan high school' on the other side.
Keep going straight about 30m after passing by
"CAFE BOILER", Turn left before Parking lot (주차장),
then you will see the 'Banana Backpackers'
yellow signboard about 20m ahead.
D. Check in & out
check in from 1 pm
check out by 10:30 am
E. Facilities
Free Internet access with WIFI & Common room with cable TV!
Print Service & Complimentary maps and tourist broshure
Fully equipped Kitchen & Free Coffee& tea
Free Laundry Facilities & Free luggage Storage
No curfews
International Phone
F. Contact
Phone: 82 2 3672 1973
Fax: 82 2 743 4879
Email: webmaster@bananabackpackers.com
A. Location
at the heart of cultural, artistic, college area of Hongdae.
(Hongik University) and near by Yonsei University, Ewha University. Sogang University. And one of the most attractive place to visit and stay in Seoul, Korea. It takes only between 15~30 mins to get the historical area. So easy to access from the airport, the train staion, almost everywhere.
For Information on Hongdae area clubs, click here.
B. Price
22,000 won
C. Transportation from the Inchon airport
Its only 4,700 won Korean money.(about 4 us$)
Be careful not to take the ' express ' train, as it goes straight to Seoul station.
Take the ' commuter (normal)' train from the airport.
' HONGIK UNIVISITY (HONGDAE IPGOO)' station, it's the 7th stop from the airport station. to come to our guesthouse at ' HONGIK UNIVISITY ' station, use exit no 1.
– Take exit no 1 and when you get outside for :Dunkin Donuts" ( it only 30 seconds ) on the main road.
– The guesthouse office is room 303 on 3rd floor of the Dunkin Donuts building ( Paradistel building , its vey tall – 19 story bld.)
– Take the elevator to the 3rd floor and come to room 303 – CNAtour HONGDAE Guesthouse
– We are waiting for you there.
– Are you with heavy luggages..? no worries. there is an escalator at exit number 1. please come to 3rd floor ,room 303, HONGDAE Guesthouse
D. Check in & out
Checkin: 12PM
Checkout: 12PM
E. Facilities
Wide bathroom, kitchen, 100M  Internet and wifi for free
For the long stay, the laundry is possible in the next room ( for free )
F. Contact
Phone: 82 2 336 0003
Fax: 82 2 336 0569
Email: hongdaeguesthouse@gmail.com
A. Location
Near Cheonggyecheon
B. Price
40,000 won to 90,000 won
C. How to get to the hostel from the Inchon airport (link) 
D. Check in & out
Guest entrance :  24 Hours Available.
E. Facilities
=Lobby=
• Kitchen : Fully equipped kitchen for guests
• Free WiFi. Wireless Internet access in Lobby ( Free use )
• Public Computers for Internet access in lobby ( Free use )
• Copy machine of Color / Gray scale
• Laundry / Washing / Drying
• 24 Hour CCTV Recording for Perfect Security
=ROOMS=
* Private Room, Same Inside * ( Except Dormitory Rooms )
• Shower / Toilet
• Cable TV ( English Japanese Chinese Korean Channels )
• Electronic Safe Box ( Free use )
• Free WiFi. Wireless Internet access in Room ( Free use )
• Hair Dryer
• Travel plug adaptor ( Free rent )
• Refrigerator
• Towels, Sampoo, Linse, Soap, etc..
• Power 220V
• Phone ( Receive Call only )
• Air-Conditioning Cooler for Summer ( individual room control by guest )
• Floor Heating Korean system for Winter ( individual room control at Reception Desk )
F. Contact
Phone: +82-2-2285-5511, +82-2-2265-2156
Fax. +82-2-2285-5512
Email: travelersa@naver.com
A. Location
Near Namsan mountain (five separate guesthouses)
B. Price
55,000 won to 95,000 won
C. Transportation from the Inchon airport (link)
E. Facilities
Free Internet Service (Wirelss Internet)
Free Breakfast
Free Overseas Call (Skype)
WIFI EGG Rental Service:  You can have internet service anywhere in korea by using WIFI EGG service. The WIFI Egg rental fee is only 5,000 KRW per a day. One day 300 MB.
Kitchen & Laundry
Rest Place
F. Contact
Phone: 82 2) 778-7800,778-7811
Email: webmaster@namsanguesthouse.com